Undergraduate students get rare chance to work with groundbreaking genetic engineering technique CRISPR
Source: Undergraduate students get rare chance to work with groundbreaking genetic engineering technique CRISPR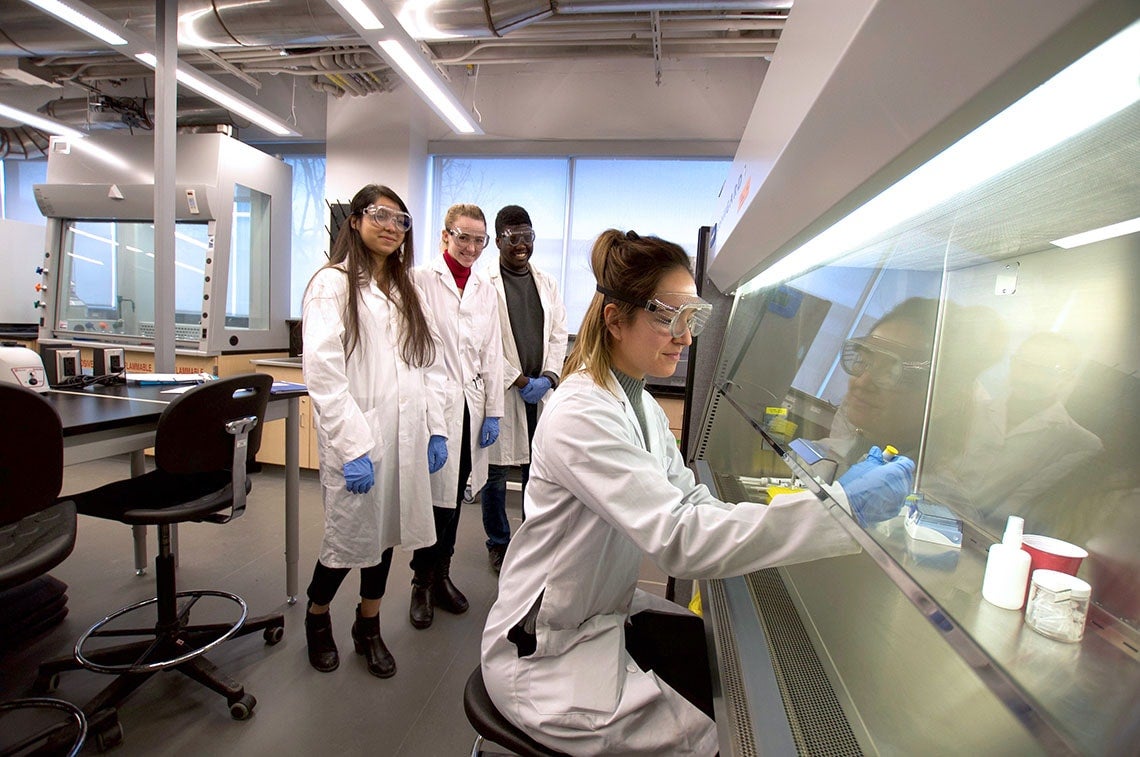 It's a groundbreaking genetic engineering technique normally reserved for research labs, but this year more than 40 undergraduate students in the Faculty of Arts & Science's human biology program had a chance to work hands-on with CRISPR, a research tool helping to revolutionize the field of molecular biology.
Often described as a word processor for DNA, CRISPR allows scientists to modify the genetic makeup of cells by adding, removing or changing sections of DNA – think cut and paste editing of an organism's genetic sequence.
"Normally they read about it, they hear about it, but they don't get a chance to actually practise it," said Alistair Dias, an associate professor, teaching stream in the human biology program, about the students in his fundamental genetics and applications laboratory course. "This was an opportunity to give them real-world lab experience in a teaching environment so they're prepared if they go into research later on."
Students were tasked with using CRISPR techniques to change the genetic makeup of cells that would normally appear blue by modifying their DNA so they'd appear green under a fluorescence microscope – something his class was more than a little excited to take on.
"When Dr. Dias told us that we'd be one of the first classes to work with CRISPR at U of T, I remember the class screaming in excitement," said Abbi Thayagunan, a fourth-year student. "We all knew that we'd be working with new technology, but for it to be something we've learned so much about – it was exhilarating."
"I feel grateful for this opportunity," said Karol Andrade Bohorquez, a third-year student. "CRISPR technology opens a new door for the future of science and medicine, as it offers an innovative way of treating diseases beyond genome editing."
Dias wanted his students to experience techniques being used in research labs right now, especially since human biology's new labs and state-of-the-art equipment are up and running in Ramsay Wright.
"The intention was to generate excitement and enthusiasm," said Dias. "It would have been a waste to have all of this new fancy equipment and not do the most cutting-edge stuff we can."
This was not lost on his students.
"To be a student during this time of innovation and improvement feels really powerful," said Sharon Ma, a fourth-year student. "We're the first to see new technologies and techniques being implemented into our education, which allows us to leverage these experiences in our careers going forward."
And for Dias, it's about setting the future generation of scientists up for success.
"This lab was about giving my students an opportunity and a head start with respect to their scientific careers," said Dias. "I want them to be able to go to their future supervisor and say, 'I know something about that.'"
Published at Fri, 06 Apr 2018 18:45:02 +0000